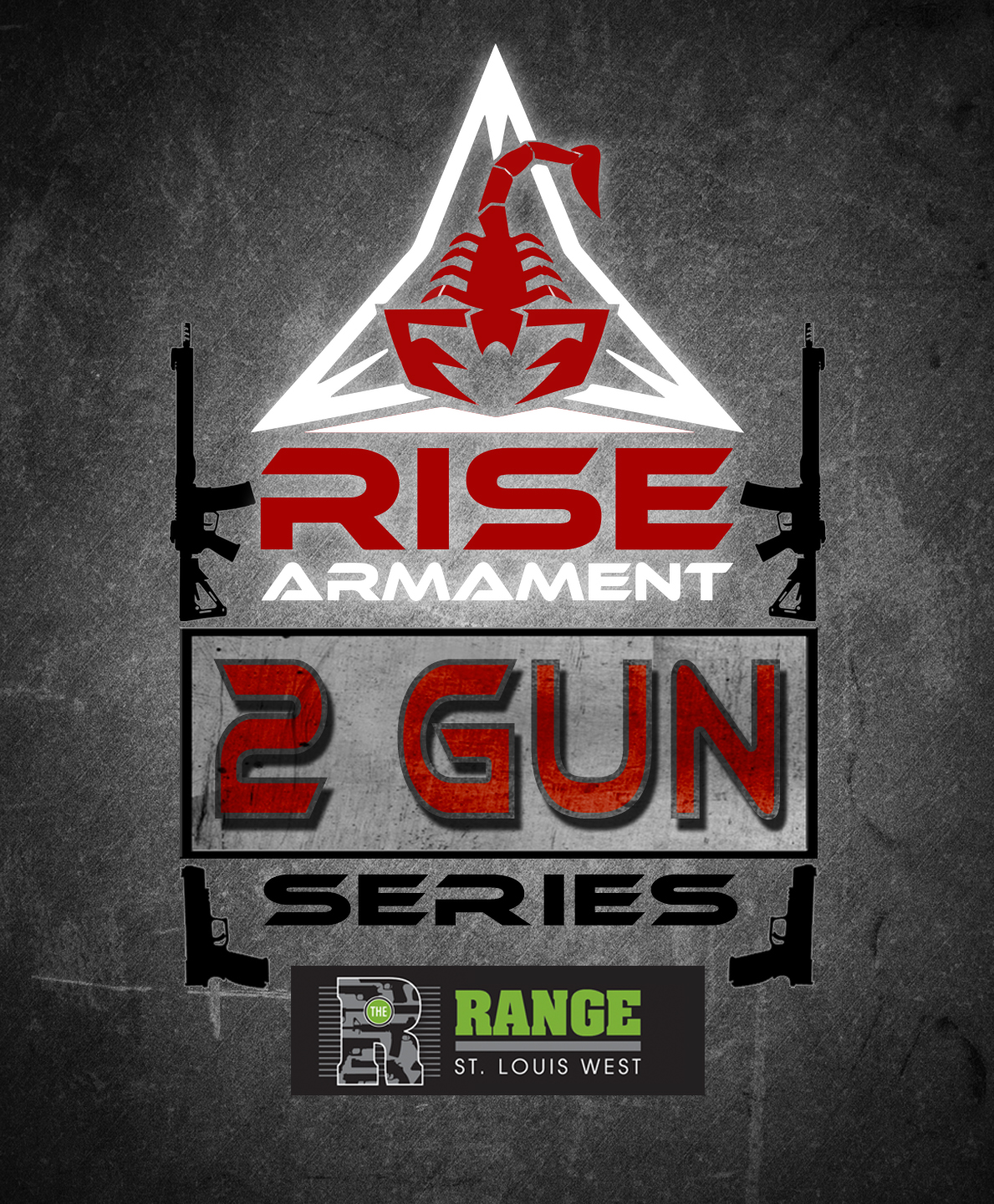 Rise Armament Two-Gun Series at The Range St. Louis West:
The Rise Armament 2Gun Series is a battle for the title of "Awesome-ness" proudly sponsored by many of today's top companies.
The points series is a set of 9 matches held monthly with 3 (or more) stages at each match. How you place at each match will give you a point value based on your placement. Each  shooter's top 5 matches will be added together for your 5 match average. At the end of the series the top 8 over all points leaders will come back in for the shoot off match. 1 stage, double elimination, until there is one winner. The shoot off winner will get a trophy and first pick of the prize packages. We will have a prize table with prize packages for each of the Top 8 shooters, which has historically included a rifle from Rise Armament as well as over $10,000 worth of prizes !
Gear needed: You will need a rifle, pistol, holster, mag pouches for a rifle and pistol, 3 or more magazines for each firearm, eye and ear protection and a belt. Bring at least 100 rounds for each platform, and be ready to help paste targets.
The RA 2Gun Series will be the 2nd Thursday each month from 6pm to 9pm. Match sign up goes live at 9am the Saturday before the match. Meet in the classroom for safety brief before going down to the range. Cost is $25 plus tax per shooter.
*** ALL RA 2Gun Rules are at the bottom of the page! ***
RULES FOR TWO GUN
The matches will be the 2nd Thursday each month from 6pm to 9pm. * dates are subject to change*
$25 a shooter per match.
20 shooter cap per match with sign up on Practiscore.
Out of the 8 matches the shooters top 5 match point will be totaled up for the full series point standing.
1st = 100 points, 2nd = 90 points, 3rd = 80 points, 4th = 70 points, 5th = 60 points, 6th=50 points, 7th=40 points, 8th=30 points, 9th=20 points 10th-20th = 10 points.
If there is a point tie in the top 5 match point values then it will go to total match points. If that is a tie then it will go to total head to head total match placings. If there is a tie in head to head match placings there will a one (1) string shoot off between those shooters to determine the last shoot off spot. This will be done before the shoot off starts.
1st, 2nd, and 3rd overall series point winners will get trophies along with the shoot off champion.
The top 8 shooters will go to a double elimination shoot off stage. The shooting order will be 1st vs 8th, 2nd vs 7rd, 3rd vs 6th, 4th vs 5th. The two winners from each bracket will then shoot vs each other for the 2nd round. Top winners move on from that double elimination. Those winners will shoot in the 3rd rounds for 1st and 2rd of the shoot off. The winner of the shoot off will get the shoot off trophy. The top seeded shooter can choose to shoot 1st or 2nd at the shoot off stages. If there is a tie on an elimination shoot off a single elimination shoot off stage will be shot to see who moves on. The tie shoot off will take place after all other shoots have shoot that same round.
Prize table will be in the order of shooter match placing. In order: Shoot off winner, 1st, 2nd, 3rd, 4th and so on.
If a shooter cannot make it to the shoot off the next shooter in the point series standings will take their place in the shoot off and claim whatever prizes that shooter earns. If the original shooter makes it in time for the prize table for the shoot off but does not shoot they will take the last choice in price table and the 9th place shooter that shot the match will be given a small prize package.
Matches will be time + penalties + target score = stage time. All stage times added together to give you your match time.
2 hits on paper to count as 0 added time. A hit must break the perforations of the target to be counted on that target. If the hit is just in the inside of the boundary of the perforations it will be counted as a miss. If the target does not have perforations it the hit must be a hole that is half (½) the size of the shooters bullet on the target to count.
1 hit on paper or a miss will be 5 down/5 seconds added to score.
A hit on a No Shoot target will be a 5 down/5 second penalty.
A Procedural Penalty will be a 3 second penalty.
No shoot through will count for a target or No Shoot target.
Round counts will be around 100 for the handgun and 100 for the rifle.
Matches will have 3 or more stages per match.
Rifle must be that of the ATF definition of a rifle with a stock and can be shouldered. No "pistols" allowed.
Shooters may use a PPC (Pistol Caliber Carbine) as their rifle 9mm or larger.
Any barrel length (with stamp proof of SBR) is legal.
All 3Gun "Open" modifications are allowed on rifle.
Handgun modifications can be that of a "Limited USPSA" handgun with a slide mounted optic "Carry Optic USPSA". No other mounted optic. No compensators/breaks on handguns. Ported slides and barrels are ok.
Semi auto (1 trigger press and release for 1 shot fired) will be allowed. No full auto/select fire, bump fire, or reactive triggers will be allow.
Uncapped magazine limit on rifles and handguns.
No silencers, only due to timer not picking up each shot fired.
Holster, mag pouches and belts all to the same rules at 3Gun Nation.
Any dropped gun or unsafe action will be a match DQ.
All 3Gun safety rules will apply.
No lasers (unless allowed for that match only)
Light and a sling maybe be used at matches.
Stage guns, full autos, and silencer maybe be used as stage guns.
Shooter's may change their firearms from one match to the next. No changing out for a different firearms per stage unless firearm is broken.
Over shoot rule. This does not include make up shots. If you shoot over 4 rounds into the same target to get a mag change or in frustration/fit of joy on the 5 shot will be a PE (3 second penalty). This cost time and extra money. Time to re paste extra holes and the cost of pastes/targets. This slows things down when we have more stages to shoot. We are here to shoot and trying to eliminate any extra waste of time.
No call no show. If you do not call/email/Facebook message/or simply click on the "withdraw" button on PractiScore then you WILL NOT be eligible to shoot the next match. We are having sell out matches and you would be taking other shooters spots that are willing to show up. If you are on the "waitlist" I would show up if it's not a drive and or call to check about 10 mins before the match to see if there are spots open.
If you name is called and you are not present on the range you will be given a Procedural Penalty of 3 second. If we have gone through the shooting order and you are not present you will get a DNF (Did Not Finish) for that stage. We are here to shoot a match not to wait on shooters.
At the time of shooter's name being called a 1 minute timer will start. At the end of that 1 minute the timer will start. If you are not ready by then you will be given a Procedural Penalty of 3 seconds and also the starting procedure (Shooter ready, stand by) will start.
The shooter on deck (next to shoot) will be stationed next at the Start Position (SP). All other shooters will help reset stages. Shooters not helping on a regular basis will be given a warning (or group warning) and then a Procedural Penalty of 3 seconds. Only the shooter on deck, shooter in the hole (3rd up) and the shooter that just got done shooter are excused from helping reset the stage.
Default starting position will be: Pistol mag in, round in the chamber safety on. Rifle mag in, round in the chamber on safe.
All Range safety and ammunition rules apply.
All rules and dates are subject to change by match director, staff, or a panel of shooters.
*** Remember you MUST sign up on PractiScore to lock in your spot at the match. The match will go live on The Range St. Louis West Facebook page as well at The Range STL IDPA Practicescore website at 9am the Saturday before the Thursday of the match date. The 2Gun Series will be limited to 20 shooters. All payments will be done in store for matches. Payment DOES NOT lock in your spot only PractiScore. A Wait list will be made online and if a shooter drops the next in line will take their place. The DAY of the match at 6:05pm we will fill any spots with WAIT LIST shooters. Don't be late. At 6:05pm all free spots to the maxes will be given away to those shooter who showed up and in order of them showing on the WAIT LIST. ***